Date and Time:
Thu, 04/17/2014 - 11:00am - Thu, 05/08/2014 - 4:30pm
Presented by John Savill
April 17th, April 24th, May 1st, May 8th
Exclusive Discount - Enroll Now & SAVE $195
$795 $600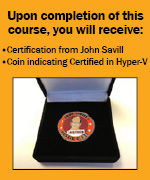 Become a Hyper-V master and reach your full potential!
John Savill is considered one of the top Microsoft technology experts in the world. This exclusive event gives attendees 12 hours of detailed instruction covering all the key aspects of a Hyper-V based virtualization environment.
John will walk attendees through resource allocation and architecture, storage, networking (including network virtualization), clustering, migration technologies, replication, private cloud, session virtualization, migration from other technologies, integration with Windows Azure, and more. At the end of this class, attendees will be able to architect and manage an enterprise-level Hyper-V environment.
Upon completion of the course, students will be awarded a certificate and coin for Hyper-V master certification.
During this training attendees will learn how to:
Architect a Hyper-V based virtualization solution
Utilize technologies to create the most highly available Hyper-V environment using clustering and other replication technologies
Migrate from physical and other virtualization environments
Implement a private cloud solution
Who should attend? Beginners to Hyper-V experts will all learn something in this training.
Our first five students have registered for this class and will receive a signed copy of John Savill's newest book "Mastering Hyper-V 2012 R2 with System Center and Azure" due out in April 2014! (Seen at right.)
Day 1: Hyper-V Core Concepts - April 17, 2014
Session 1: Introduction to Hyper-V - 11am ET
This introductory session focuses on the core value proposition of virtualization and how the datacenter has evolved. John will explore the key changes and capabilities of Hyper-V in addition to the role System Center plays in a Hyper-V environment. He will cover the types of cloud services available and how Hyper-V forms the foundation of private cloud solutions.
Session 2: Virtualization Fundamentals - 1pm ET
This session covers the core resources of a virtual machine, specifically architecture (Generation 1 and Generation 2 virtual machines), processor and memory. Attendees will learn about advanced configurations to enable many types of operating system support along with best practices for resource planning.
Session 3: Virtual Networking - 3pm ET
Networking is one of the most complicated aspects of virtualization, especially when using new network virtualization capabilities in Hyper-V. This session covers the key networking concepts, how to architect virtual networks, and how to configure them. John will explain networking using System Center Virtual Machine Manager (SCVMM) and how to design and implement network virtualization.
Day 2: Hyper-V Management – April 24, 2014
Session 4: Storage Configurations - 11am ET
In this session, John covers the storage options for Hyper-V environments, including the VHD and VHDX formats plus capabilities in Windows Server 2012 R2 that help manage direct attached storage. Attendees will learn about storage technologies for virtual machines such as iSCSI, virtual fibre channel, and shared VHDX; their relative advantages; and also the storage migration and resize functions.
Session 5: Managing Hyper-V - 1pm ET
This session covers the installation of and best practices for managing Hyper-V. John will walk through the basics of configuring virtual machines, installing operating systems, and using the Hyper-V Integration Services. He will present strategies for migrating from other hypervisors, physical servers, and other versions of Hyper-V.
Session 6: Maintaining Your Hyper-V Environment - 3pm ET
Once you've installed Hyper-V, you need to keep it healthy, which includes patching, malware protection, backup, and monitoring. John will demonstrate actions such as taking checkpoints of virtual machines, setting up service templates, and performance tuning.
Day 3: High Availability and Cloud Services – May 1, 2014
Session 7: Failover Clustering and Migration Technologies - 11am ET
This session covers making Hyper-V highly available using failover clustering and will include a deep dive into exactly what makes a cluster tick, specifically when running Hyper-V. John will cover key migration technologies such as Live Migration, Shared Nothing Live Migration, and Storage Migration. He will cover configurations related to mobility outside of a cluster and placement optimization for virtual machines.
Session 8: Hyper-V Replica and Cloud Orchestration - 1pm ET
While highly available configurations are critical for any virtualization environment, organizations today are also looking at providing disaster recovery protection in the event of losing an entire site. This session looks at the options for disaster recovery including leveraging Hyper-V Replica and orchestrating failovers with Windows Azure in the event of a disaster.
Session 9: Implementing Private Cloud and SCVMM - 3pm ET
The private cloud provides many benefits to organizations beyond just virtualization. This session explores the key benefits and what a private cloud using Microsoft technologies actually looks like. John will cover the key components and functional areas, including the actual end-user experience and how you can leverage all of System Center for different levels of private cloud capability.
Day 4: Architecting Hybrid Solutions - May 8, 2014
Session 10: Remote Desktop Services - 11am ET
While another type of virtualization, virtualizing the end user experience is a critical capability for most organizations, virtual desktop infrastructure is becoming a bigger component of the user environment. This session looks at the different types of desktop virtualization available with Remote Desktop Services with a focus on capabilities that are enabled by Hyper-V, such as advanced graphical capabilities with RemoteFX.
Session 11: Azure IaaS and Azure Storage - 1pm ET
Hyper-V powers one of the biggest public cloud services that exists, Windows Azure. This session will cover the fundamentals of Windows Azure and how to create virtual machines in Windows Azure. John will also look at the networking options available both within Windows Azure and to connect to your on-premises network. He will examine the migration of virtual machines and how to leverage Windows Azure storage. John will also demonstrate how to manage Windows Azure with System Center, providing a seamless experience between on-premises and Windows Azure.
Session 12: Best of Breed Virtualization and Cloud Solution - 3pm ET
In the final session, John will bring together all the different technologies and options to help architect a best-of-breed virtualization and cloud solution. He will also reveal the secret decoder ring of VMware to Hyper-V migration.
Presenter
John Savill is a Windows technical specialist, an 11-time MVP, and an MCSE for Private Cloud and Server Infrastructure 2012. He's also ITIL certified and a CISSP. John is the author of the popular FAQ for Windows and a senior contributing editor to Windows IT Pro, as well as the author of The Complete Guide to Windows Server 2008 (Addison-Wesley) and Microsoft Virtualization Secrets (Wiley). John's blog is available at Savilltech.com.
Customer Service
If you have any questions regarding this event, the registration process or would like to register more than one attendee, please contact us directly.
Email: service@windowsitpro.com
Phone: 800-793-5697 or 913-967-1719